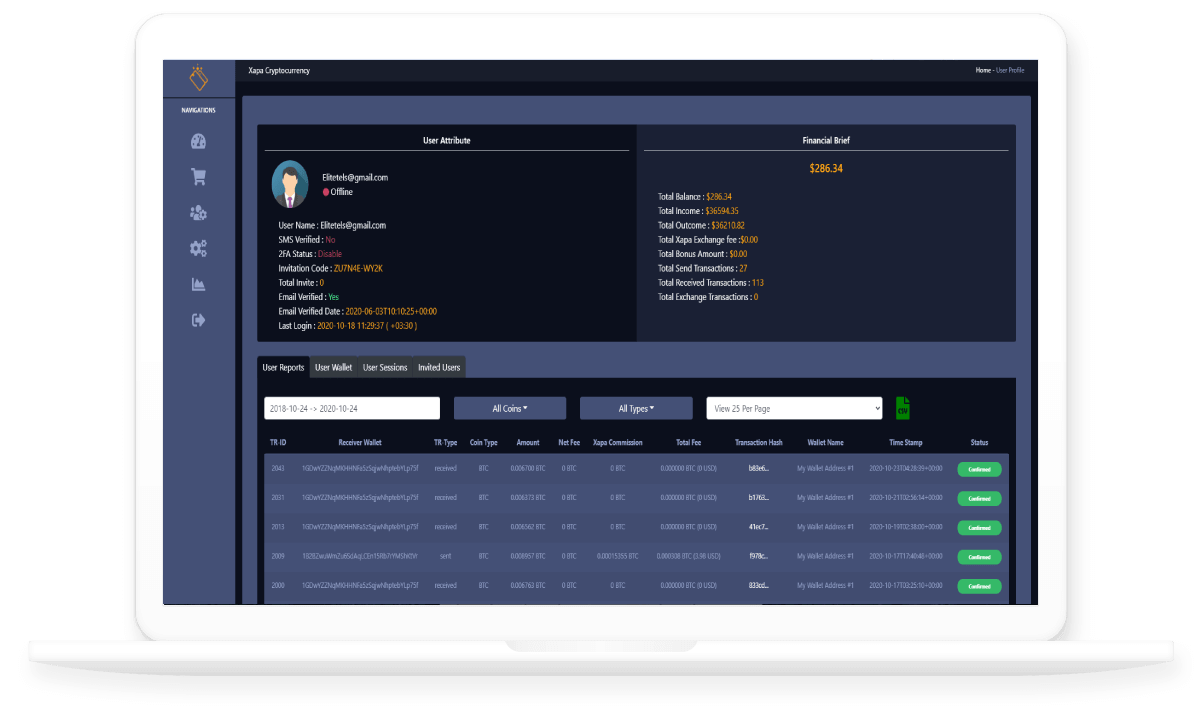 Your account is available everywhere and compatible with all browsers.
Having full features of your wallets in your panel as the same as your mobile app.
Your assets are synced between your web wallet and mobile application perfectly.
Xapa wallet is secured by cloudflare and your assets are safe.
Xapa Features
The Reasons You'll Love It
What is Cryptocurrency Exchange?
A cryptocurrency exchange is a platform where individuals can trade their cryptocurrencies and convert them into another cryptocurrency or Fiat currency.
An exchange can be a site or a mobile application that is installed on a mobile phone or both. By registering in a cryptocurrency exchange, you can buy a cryptocurrency for the fiat currency or another cryptocurrency, or sell your cryptocurrency for the fiat currency (such as US Dollar, Euro, etc.) or another cryptocurrency.
The list of cryptocurrencies are: Bitcoin – Ethereum – Tether – Dogecoin – Litecoin – Dash – Chainlink – uniswap….
To register or make a transaction, there is no need to be physically present at the cryptocurrency exchange office and it is only necessary to apply through the website or mobile application because when dealing with digital assets, the need to visit in person disappears.
How a cryptocurrency exchange works depends on the type of exchange. If we want to have an overview of the work of exchange offices, each exchange office works in one of two ways: either you trade with the exchange office itself (you buy from the exchange office or sell it to the exchange office itself) or an exchange office himself is not a party to the transaction and is only an intermediary between buyers and sellers and receives some commission for trading.
In a small number of cryptocurrency exchanges, the party to the transaction is the exchange itself, meaning that people buy the cryptocurrency from the exchange themselves to buy it and sell their cryptocurrency to the exchange to sell it.
Here is the exchange income from the difference between the buying and selling price; This means that the purchase price of cryptocurrency from an exchange is higher than the selling price to exchange.
In the latter case, the exchange is no longer the party to your transaction, but is an intermediary between buyers and sellers and receives a commission percentage (for example, 0.1 percent of the transaction amount) from each transaction. Globally, most exchanges operate in a second way.
Characteristics of a digital currency exchange
Wallet management
In cryptocurrency exchange, you can buy and sell your favorite cryptocurrencies and track your inventory status together.
Instant exchange
Some cryptocurrency exchanges allow you to instantly convert cryptocurrencies to each other. In these platforms, the user only specifies what currency he has and what cryptocurrency it intends to convert it into, and leaves the rest to the platform.
Competitive commission
The buying and selling fee in a cryptocurrency exchange is very low and will decrease as the volume of transactions increases.
Fast support
One of the indicators of a safe and reliable trading market for buying and selling bitcoins and other cryptocurrencies is having constant and fast support, which cryptocurrency exchange tries to provide this service in the best way.
Decentralized Finance and Its Most Important Protocols Decentralized Finance (DeFi), the rapidly growing movement within the cryptocurrency industry, is at its core, a set of financial applications built on blockchain technology that aims to conduct financial businesses utilizing peer to peer

Stealth Addresses and All You Need To Know About Them A blockchain network is a distributed ledger, much like a shared database that contains the transaction amount and the sender and recipient's address. It is quite impossible to completely hide a

All You Need To Know About Ordinals Ordinals are the hot new thing that dominated the conversation around the oldest and largest blockchain, Bitcoin. They are literally taking the blockchain by storm as the number of Bitcoin inscriptions surpassed 200,000 on