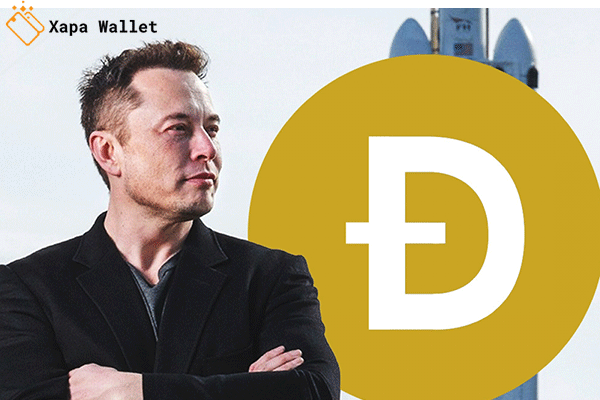 Dogecoin Coin
Dogecoin entered the blockchain world in 2013 and was soon able to find its way to success. Dogecoin coin is often referred to as a "kind currency" or "friendly currency" because it has done a lot of good work to date.
Dogecoin coin was joked in 2013 by software engineers IBM's Billy Markus and Adobe's Jackson Palmer using a popular dog meme to mimic bitcoin substitutes. The other two founders are no longer directly involved in the Dogecoin coin.
The Dogecoin protocol was based on the Luckycoin, which is now obsolete and is a fork or spin-off of Litecoin (LTC). Since the Dogecoin coin supply is not limited, more than 128 billion coins are in circulation, and the low price has made the currency popular in social media communities for small transactions. The Dogecoin coin was priced at approximately $ 0.000232 in 2013, so an increase of about $ 0.05 represents a 21,000% increase.
Dogecoin's popularity on social media has made Dogecoin coin prone to sharp price fluctuations. Meanwhile, various attempts by users on TikTok and Reddit to collectively raise prices have caused the market to jump.
Dogecoin coin seems to be trying to stay with the identity of a currency rather than trying to be a valuable currency, Dogecoin's goals are more than financial goals, and according to a Dogecoin Twitter user, this is a way to end greed. The Dogecoin coin is the latest Cryptocurrency to seize the opportunity and has become the twelfth largest cryptocurrency in terms of market value after a series of tweets sent in recent days by Tesla founder Elon Musk. Therefore, the Dogecoin coin price forecast for 2021 will be exciting for many.
So far, Cryptocurrency users have been able to raise a lot of money using the Dogecoin page on Reddit and use it for charity. For example, in 2014, they raised $ 50,000 to take the Jamaican sled team to the Sochi Olympics. Or they raised $ 30,000 to build a water purifier for a village in Kenya.
The Dogecoin coin is classified as a cheap and even very cheap currency. The currency is currently priced at $ 0.005. The same low and reasonable price will attract many people to invest in Dogecoin. Of course, if you are planning to invest in the cryptocurrency market, you should know that price is one of the value factors of a Cryptocurrency and other factors such as market value, currency dissemination limit, and currency usage are also important in choosing a Cryptocurrency for investment.
Invest in Dogecoin
The important factors that the Dogecoin coin has at its disposal make experts and users expect this Cryptocurrency to have an upward and positive trend for the coming years, but it is slow and slow. The positive factors that make you invest in Dogecoin coin are related to the following:
Being unlimited
Unlike other Dogecoin coins, there are no restrictions and the user can buy any currency it wants. This restriction applies to popular currencies such as Bitcoin and Litecoin. Dogecoin coin can be mined in any amount, and this currency will have no limits and no end. To better understand this issue, we must say that the number of bitcoins on the market is currently more than 21 million, but the Dogecoin coin currently has more than 120 billion currencies in circulation, and according to expert estimates, more than 5 billion Dogecoin coins this amount this year. it will be added.
Dogecoin price
In terms of price, the Dogecoin coin does not seem to have bright days ahead. It is unlikely that this Cryptocurrency will make much progress in terms of price. But that infinity has made the Dogecoin coin a common currency for charity or gift-giving.
Like other Cryptocurrencies, the Dogecoin coin has high price fluctuations. Dogecoin has risen 774 percent against the US dollar this year. According to Coindesk, a year ago, the coin traded at $ 0.002493 and fell to $ 0.001582 in March 2020. In July, the Dogecoin coin rose from $ 0.002286 to $ 0.004543 in just a few days. It then fell to $ 0.002961 and fell to $ 0.002503 by early November 2020.
Dogecoin coin started 2021 with a climb and doubled on January 2, from $ 0.005405 to $ 0.011427, and traded on January 27 at $ 0.07432; Before the last rally, it reached its highest price of $ 0.07818.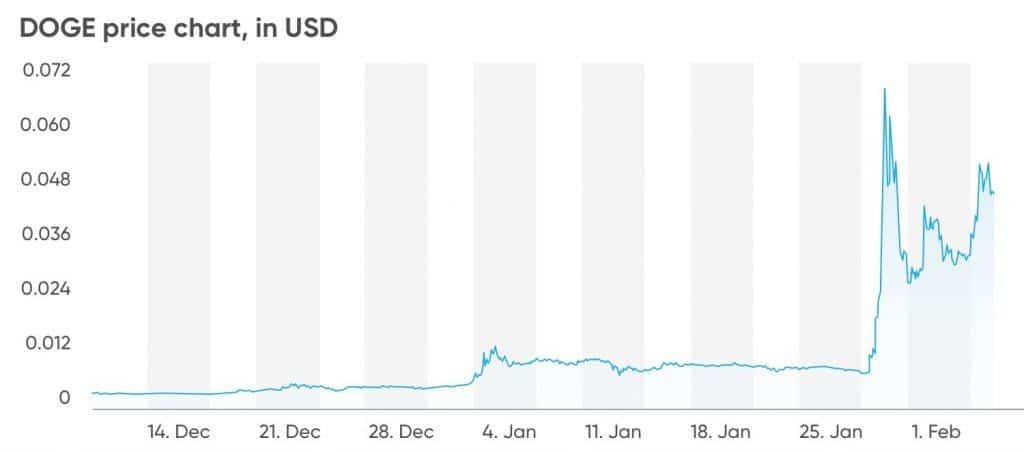 According to the Wallet Investor online forecasting website, the Dogecoin coin could rise above $ 0.05 again and double to $ 10.10 later this month. However, the website predicts that the Dogecoin coin price will drop to $ 0.0343 by the end of March and to $ 0.0390 by the end of December 2021.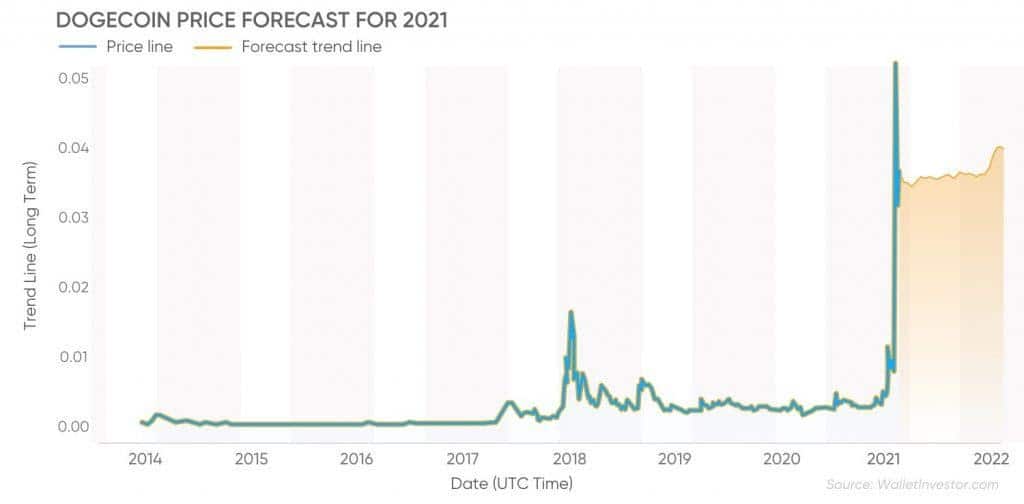 The long-term forecast of this website shows that the price may reach $ 0.01717 at the end of 2022, $ 0.0441 at the end of 2023, and $ 0.05096 in January 2026. Cryptocurrency data collector Coinswitch predicts that the Dogecoin coin could climb more than $ 0.005 in the next month or two, noting that DOGE has been accepted as a means of payment by online stores such as eGifter, AllGamer.net, and others. In the long run, Coinswitc predicts that by 2025, the Dogecoin will be between the low of $ 0.0281 and the high of $ 0.0450.
The Dogecoin coin price forecast from digitalcoinprice.com is higher, and the site predicts that the average price in March will be $ 0.073692 and at the end of 2021 it will reach $ 0.01293.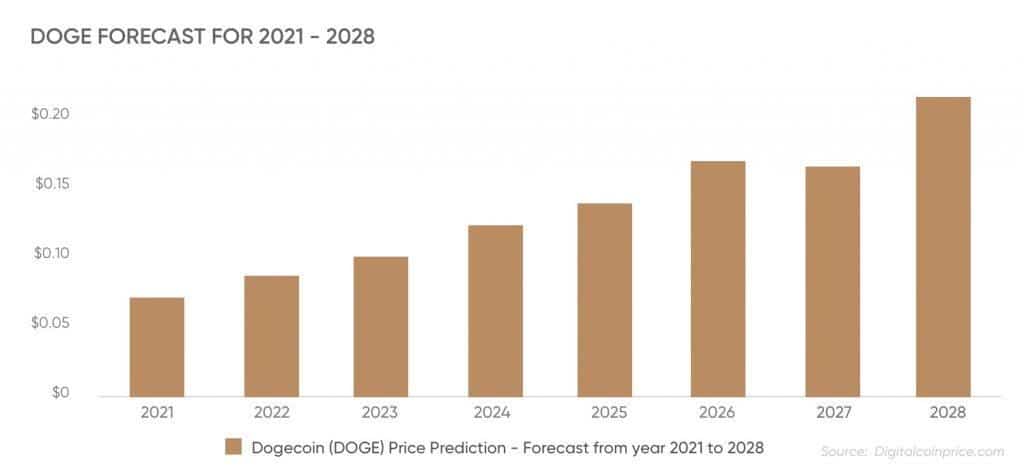 In the long run, the average price forecast for the Dogecoin coin is $ 0.1152755 in 2025 and $ 0.238451 in 2028. Cryptocurrency markets are prone to rapid and drastic price changes, so if you decide to open a position for Dogecoin coin, even if the long-term outlook is bullish, you should be prepared for high price fluctuations along the way.
Updates
Dogecoin has not undergone any major upgrades or changes since 2015. In the long run, this could cause the currency to depreciate and users to migrate to other currencies such as Ethereum. Since the Dogecoin coin was created from the ground up for fun, and now only three developers are working on the currency voluntarily, it seems like a long time to wait for the currency to update.
Long-term investment in Dogecoin
In the case of the Dogecoin coin, we have experienced a price increase in early 2018 that had nothing to do with the currency's material values but was due to the general popularity of the crypto market around the world. This has been the only upward growth in the Dogecoin coin since 2013.
Given what we have said about the future of the Dogecoin coin, it should be said that these cryptocurrencies are purely for entertainment and are used for humanitarian and charitable purposes, so it can not be given that competitors such as Bitcoin, Litecoin, and Ethereum It expects to see a rise in the price of these currencies, but in the event of an upgrade, given that Dogecoin coin has countless fans around the world, it can be said to be able to maintain its market and perhaps even relative growth. Also experience in the future.